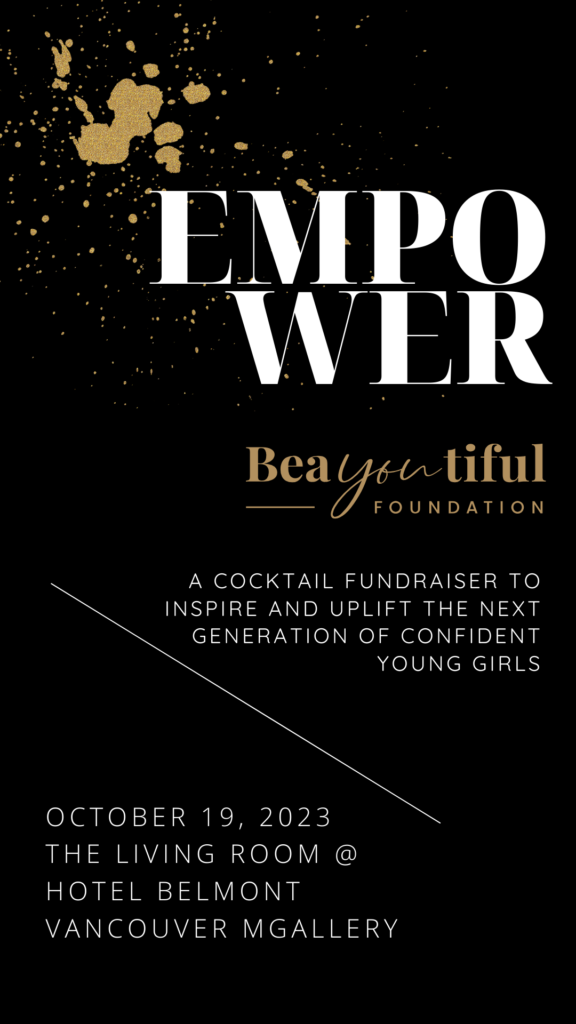 EARLY BIRD TICKETS ON SALE! You're invited to our 2nd annual cocktail fundraiser, supporting the next generation of confident girls.
A cocktail mingle event featuring welcome drinks, canapés and food stations, live music, female DJs, a margarita bike, custom calligraphy art, a grand prize draw and more! Support BeaYOUtiful as we gather for a good cause.
Dress in pops of colour, glitter, and velvet for an evening that will delight all your senses! Featuring an eclectic mid-century design in the heart of Downtown Vancouver, join us at the iconoclastic Hotel Belmont Vancouver MGallery for an evening of impact.
The night of surprises won't leave you disappointed. With heartwarming stories from the BeaYOUtiful team and our youth attendees, you're guaranteed to feel empowered to help our mentorship team grow and impact change. The world needs more confident young women who will lead us into a brighter future. It starts with us.
Thursday, October 19th, 2023
Doors open: 6:30pm-Late. 
Open seating- Two floor venue experience
Location: The Living Room & Basement at Hotel Belmont: 654 Nelson Street, Vancouver BC
This event is 19+
Thanks for joining us at MOVE TO INSPIRE!
For an entire month, the BeaYOUtiful Foundation hosted a series of summer wellness events as we raised funds for our youth confidence and mental wellness programming! In total, we raised $16,000.00 For the Charity!

Thank you to our matching partner, the Malcolm J.Jenkins Family Foundation for their contribution of $8,000!
Saturday Strut Dance Class
Saturday, July 15, 2023 | 6:45pm-8:00pm
Passion and Performance Dance Studio- 55 W 8th Ave, Vancouver, BC
Christina Schell is kicking us off at 6:45pm, with a class that is all about SASS! Join us for an empowering, all-levels dance class. 

Body rolls, hair whips, and confidence walks…OH MY! This class will make you feel powerful and you'll be shining with confidence. Christina promises you will leave feeling like the QUEEN YOU ARE!
Tuesday, July 18, 2023 | 7:00pm-8:00pm
Blackie Spit Park – 3136 McBride Ave, Surrey, BC
Tuesday evening sunset yoga! Join Diana for an invigorating and empowering flow class designed to rejuvenate your mind, body, and spirit. In this class, we will explore the seamless integration of breath, movement, and mindfulness, creating a holistic experience that nourishes our overall well-being.
This is an all-levels class, and no previous yoga experience is needed to participate.
Thursday, July 20, 2023 | 6:30pm-7:3opm
Vanier Park- 1000 Chestnut St. Vancouver, BC
Thursday evening sweat! Booty Burn, led by Courtney James, is a 45-minute group fitness class that will get you moving to the beat of the music. Combining HIIT-style movements like squats, jumping jacks, and burpees with core and glute-focused exercises, it delivers a comprehensive full-body workout. For those seeking an extra challenge, weights and bands are available. 
The final portion of class will end with a sound bath led by Jenna Herbut, Founder of Conscious Lab.
All attendees will walk away with a delicious mocktail from Olé Cocktail Co. and a chance to catch sunset with your new workout friends at the water.
Tuesday, July 25, 2023 | 6:30pm-7:30pm
DibFit Spin Studio – 806 Homer St. Vancouver, BC
Take your Tuesday evening to the next level! Ride with Daniela Dib, CEO and Instructor at DibFit Studios.
Daniela's class experience is uplifting, motivational, and HYPE! The ride is challenging, fast paced, and includes plenty of choreography. You will be pushed physically and inspired mentally. While the workout is important, it is secondary to the emphasis placed on motivational speaking.
Favourite Motivational Quote
"You don't have to be here; you get to be here"
With Breanne & Jordan Allarie
Wednesday, August 2, 2023 | 6:30pm-7:30pm
Location: Thrive Dance Studio – #101-22661A Fraser Hwy, Langley, BC
Join Breanne and Jordan Allarie as they take you through Dance Fit Cardio- an adult dance-based cardio workout class for any level of mover taught to 90's – 00's nostalgic pop music! The focus is on sweat and fun. It doesn't matter to us whether you get the steps right or wrong, as long as you leave sweaty – you win.
(The class is 1 hour long, and meant for 18 years and up!)
Have an idea? Fundraise with BeaYOUtiful and help us empower our future generations.
Calling all entrepreneurs, activists, creators and change makers. Partner with us to create change. 
Email us for more information: beayoutiful@outlook.com